A coding Bootcamp is an intensive training program in which a person can develop in-demand skills in programming and web development in a short time.
The first coding bootcamps appeared in 2011. Over the last decade, there was significant growth in this industry, and today there are more than a hundred bootcamps in the US only.
Coding bootcamps can last anywhere between 8 to 24 weeks, depending on different factors. Some bootcamps are full-time, and some are part-time. It all comes down to personal preferences and the amount of time each person can commit to the program. For example, full-time bootcamps mean that the student has to commit around 40 hours per week to the training. This is the more intense type of training.
On the other hand, part-time bootcamps usually don't take as much time on a daily or weekly basis. Therefore, they generally last longer – around 6 months. Part-time bootcamps are a bit more 'relaxed'. That means that they are more suitable for people who already work or have other important responsibilities.
Becoming a programmer or a developer can seem like an unattainable dream and a very difficult thing to do. These bootcamps promise the development of highly required IT skills – even for those with no previous experience. And, the most important thing of all – they promise employment. Making such a bold promise may seem a bit risky, but in this article, you will find out why it is possible.
Coding Bootcamp Market Size
Since its beginnings, coding bootcamps experienced significant growth in terms of vendors, revenue, and interested students. That growth is especially evident in the last couple of years. Also, it seems that it will continue in the coming years.
According to Career Karma, the gross revenue amount of coding bootcamps in 2020 was $518,981,000, which is almost 10% more than in 2019. Observing the numbers of the last ten years shows a notable increase in the number of students participating in this kind of program. From 1745 attendees in 2012, when the first training of this kind arose, to 44,254 attendees in 2020.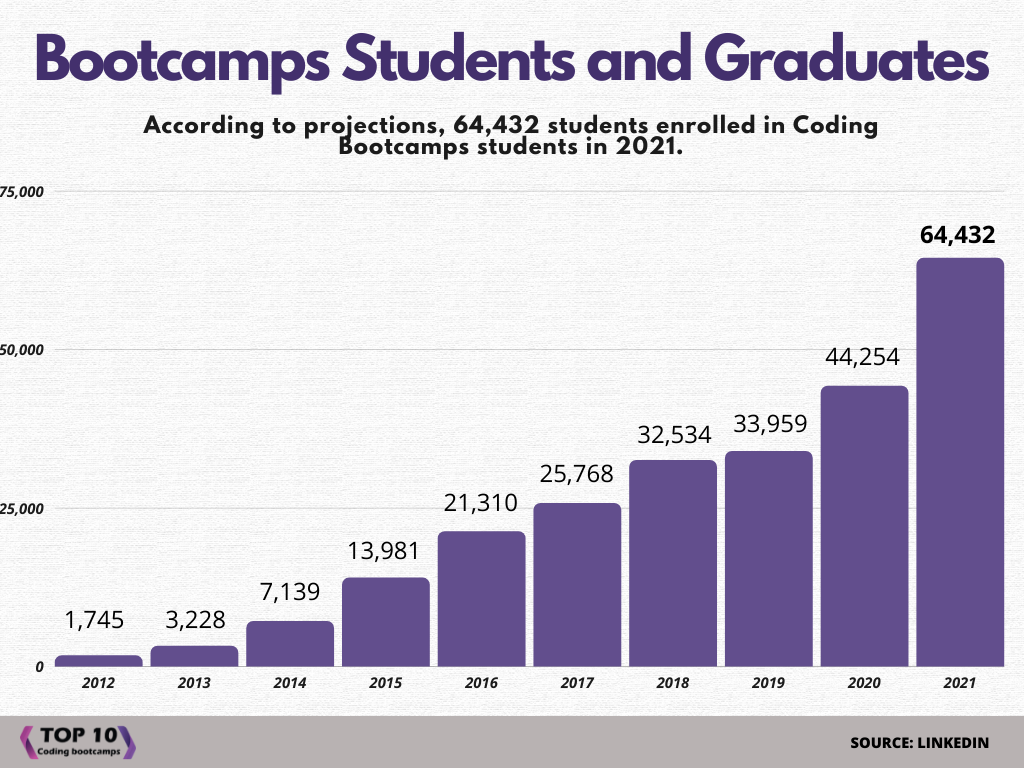 Both Career Karma and Technavio are predicting the continuance of this growth rate in the coming years. Career Karma predicts an upsurge in the number of attendees and graduates by about 20,000 for 2021 in comparison to 2020. That is the result of numerous different factors.
First is the change in the job market as a whole, which has been happening for some time already. Technological advancement and automation are leading to many current jobs becoming unnecessary or redundant. That leaves a large number of people without employment. In addition, the covid pandemic showed that it doesn't take much for society and the economy to end up on their knees, meaning that we were not, and still are not prepared for a similar crisis happening in the future.
Many businesses and industries took a huge hit during the pandemic, especially in the hospitality, service, and tourism sectors. Lots of them had to close their doors permanently, leaving a lot of people out of work. With restrictive public health measures, those industries couldn't cope, and many workers needed to find other, more secure ways to earn a living.
That is where bootcamps like these offer a great solution in reskilling and career-changing paths for many people. As Technavio notes, coding bootcamps record market growth during the pandemic.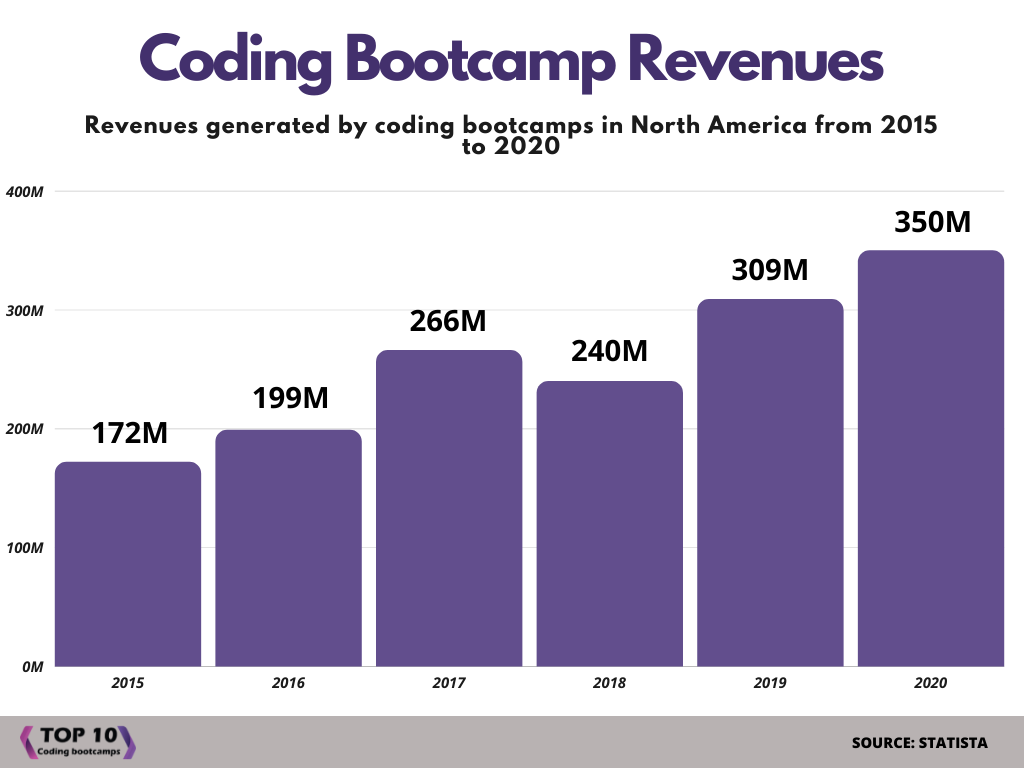 Another important reason for their growth is the fact that they take much less time and money than university degree programs for computer sciences and information technology.
In the last couple of years, the price of coding bootcamps is decreasing, which is the result of the greater number of companies who offer them, but also the variability of types of programs themselves. Since the pandemic, many of them moved online, making them accessible to a greater number of people from different parts of the US, but also the rest of the world. Though they still might be out of reach for many, especially those coming from more unfortunate backgrounds, that is changing too with new payment plans discussed later in the post.
Additionally, bootcamps are more labor market-oriented. That means that the programs and curricula change according to market needs to fill empty roles in a fast-growing industry of software development and engineering.
It is important to note here that this doesn't take away from the importance of degree programs, since they are much more in-depth and extensive than bootcamps, which is crucial for the industry.
All of the above-mentioned reasons culminate in a notable year-by-year rise of attendees and graduates in coding Bootcamp programs. Just between 2019 and 2020, there was a 30,32% rise in the number of students who graduated or attended these programs. Predictions are positive for the upcoming years as well. According to Technavio's report, it is predicted that coding bootcamps revenue might rise to $772 million by 2025, with a year-on-year growth of almost 14%.
Coding Bootcamp Gender Statistics
In this chapter, we're going to cover some of the most important aspects and statistics of coding bootcamps, such as – acceptance rates and demographic of students and graduates. Course Report provides the most extensive information about these questions. Their annual report for 2020 covers all of the most important and frequently asked questions in a very detailed way.
When it comes to demographic, their research showed that the majority of students in coding bootcamps are caucasian men. Specifically, they claim that the average coding Bootcamp student is about 31 years old, male, highly educated (BA/BS degree or higher), with seven years of working experience, but no previous programmer roles in their resume.
Only a third of graduates are women – around 35%. Though, it should be noted that their data suggests that the number of women enrolling is going up, the percentage of female graduates in 2020 was a bit higher than in the previous years – 41,3%.
| Gender | Total | 2012-17 Grads | 2018 Grads | 2019 Grads | 2020 Grads |
| --- | --- | --- | --- | --- | --- |
| Female | 35.5% | 32.4% | 34.6% | 35.9% | 41.3% |
| Male | 62.7% | 66.3% | 63.3% | 62.3% | 56.3% |
| Non-Binary | 1.8% | 1.3% | 2.1% | 1.8% | 2.4% |
Table 1. Coding Bootcamp Gender Statistics
A study conducted by Louise-Ann Lyon and Emily Green in 2021 also try to answer questions about women enrolling, studying, and graduating from coding Bootcamp programs. Their study shows interesting data about this topic. For instance, it shows that the majority of women enrolling in this type of education were career changers.
It could be concluded that most of their study group were probably highly educated women in different fields, who wanted to re-skill and try to find employment in the ever-rising tech industry. They note that the majority of them heard of this concept through their school/college friends who managed to find well-paying jobs after graduating from such programs.
But, according to their study, the pathway to employment for most of their participants wasn't without hurdles. During their studies, most of the participants of their study came across difficult obstacles, experiencing self-doubt, but they managed to overcome them in the end successfully. After graduating from coding Bootcamp projects, the majority of their surveyors did manage to find a related job, but it took them way longer than they expected and than most of the programs suggested in their advertising.
There's an interesting discrepancy between women (but men as well) who graduate from coding bootcamps and the ones who have a college degree in computer science. The latter group, at least in their study, successfully landed jobs in bigger tech companies. Most of the first group found employment in smaller start-ups or IT departments in non-IT companies.
This is not to say that the first group wasn't satisfied with their employment or that their success is lesser compared to college graduates, on the contrary, it might even be more in line with what someone enrolling in these programs expects in their future.
They also that networking had a significant role in the process of job search. Women with personal connections in the industry had an easier time finding employment than the ones who didn't have a network of acquaintances.
Coding Bootcamp Ethnicity Statistics
According to Course Report, a bigger discrepancy can be observed when it comes to the racial aspect of the demographic. The vast majority of graduates are white (caucasian), almost 70%. The second most prevalent group of graduates globally are Asian people, but in the US that's Hispanic/Latino people.
| Ethnicity | US Census | All Respondents | 2020 Grads |
| --- | --- | --- | --- |
| Hispanic (Latino) | 16% | 10% | 8% |
| White (Caucasian) | 72% | 72% | 69% |
| Black (African American) | 13% | 5% | 6% |
| Asian | 5% | 15% | 17% |
Table 2. Coding Bootcamp Ethnicity Statistics
Coding Bootcamp Education Statistics
When it comes to the education status of graduates, the majority of them are – as previously stated – highly educated, most of them holding a bachelor's degree. But it should be noted that that number is slightly decreasing, while there is an increased number of graduates with a master's degree and a high school degree.
| Education | Total | 2012-17 Grads | 2018 Grads | 2019 Grads | 2020 Grads |
| --- | --- | --- | --- | --- | --- |
| No high school degree | 1% | 1% | 0.4% | 1% | 0.2% |
| High school graduate | 5% | 3% | 4% | 7% | 6% |
| Associate's degree | 6% | 5% | 7% | 6% | 5% |
| Professional degree | 1% | 1% | 0.4% | 1% | 2% |
| Some college (1-4 years) | 15% | 12% | 16% | 20% | 14% |
| Bachelor's degree | 55% | 60% | 58% | 50% | 50% |
| Master's degree | 16% | 17% | 13% | 14% | 22% |
| Doctorate degree | 1% | 1% | 1% | 1% | 2% |
Table 3. Coding Bootcamp Education Statistics
These last stats mirror the more and more widespread phenomenon of people with a higher level of education facing bigger difficulties in finding employment.
Coding Bootcamp Acceptance rate
Many coding bootcamps happily advertise percentages of successful graduates. Unlike that, the data about their acceptance rates are a bit harder to find. It is worth noting that, according to Course Report, acceptance rates are mostly in the single digits – 3 to 6%, depending on the individual Bootcamp. This statistic shows that coding bootcamps are not as easy to get into, as they might seem at first, with many people thinking that if you pay, you can get in.
There is a correlation between those numbers. By setting clear and stern requirements and demands right from the start during the application process, coding bootcamps can in a more efficient manner filter out applicants who would not be a good match.
That should not be a discouragement for anyone, rather, it should be an encouragement to work on and improve oneself to the point of being a candidate worth considering and accepting.
Coding Bootcamps prices and payment methods
Coding Bootcamp prices can vary wildly. Most affordable programs top at $8000, with the cheapest ones costing around $1500. On the other end of the spectrum, the most expensive bootcamps can cost more than $20,000.
According to various websites, most of the programs cost between $11,000 and $14,000. The median and average cost is set to just a bit over $13,500. Prices of bootcamps depend on several different factors. Full-time programs are more expensive than their part-time counterparts, online training is cheaper than in-person training. You can find a more detailed price list of individual bootcamps down below.
Most bootcamps offer several payment plans on their websites, depending not only on the type of the program you choose but also on what's the most convenient payment method for each student.
Of course, there is an option to pay the whole program upfront. That can turn out to be pretty much impossible for many people. Also, it would make the programs available exclusively to those fortunate enough to be able to pay such sums of money at once.
To make coding bootcamps more accessible, a couple of different payment methods have been developed. There are deferred payments, ISAs (Income Share Agreements), installment plans, Bootcamp loans, and, more recently, FSAs (Fair Student Agreements). Also, you can try to apply for a Coding BootCamp scholarship.
Most affordable Coding Bootcamps
Here are the most affordable programs listed on College Consensus' and BestColleges' websites:
Coding Bootcamp Employment rate
Finally, the most interesting and important question for most people researching this topic or wanting to enroll in coding bootcamps. Can I get a job after graduating from a coding Bootcamp?
Just like the tech industry itself, these bootcamps have evolved since their first appearance. It has to be mentioned that the main problem with this kind of program is the fact that they are not accredited.
On the other hand, their main appeal compared to university programs is their price and duration. Complete Bootcamp programs don't cost anywhere near as much as the university nor do they last as much. But, they don't offer as in-depth knowledge as university programs either. So, it depends on each individual and their preferences regarding which type of education they might choose. For someone who already obtained a degree in a non-related field, someone who wants to change careers or find different employment, someone who is flexible about their future employment options, or someone not willing/able to spend a fortune on four-year degree education – bootcamps might be a better option.
If, however, that is not the case, and the person is determined to broaden their IT and CS knowledge to a much more theoretical and deeper level pursuing a university degree is a better solution.
When it comes to employment rates, data from SwitchUp's report shows that coding bootcamps can be very competitive with CS degree programs. Bootcamp graduates from programs they observed in their research managed to get employment in some of the biggest tech companies in the industry, such as Google, Facebook, Amazon, and so forth.
In some cases, the employment statistic is even better than university programs.
| School | In-Field Employment Rate | Pursuing Further Education | Total In-Field or Further Education |
| --- | --- | --- | --- |
| Codesmith | 92% | 0% | 92% |
| Devmountain | 87% | 4% | 91% |
| Tech Elevator | 85% | 2% | 87% |
| University of Pennsylvania | 84% | 7% | 91% |
| John Hopkins University | 82% | 8% | 90% |
| Hack Reactor | 80% | 1% | 81% |
Table 4. Coding Bootcamp Employment Rate – Source: Burning Glass Technologies
Coding Bootcamp Payment Methods
According to data published by Burning Glass Technologies, Codesmith is the Bootcamp with the highest in-field employment rate. This Bootcamp offers two variations of programs. A full-time program that lasts for 12 weeks, and a part-time program that lasts for 39 weeks. Their program costs $18,800 and is since the Covid-19 pandemic started, available online. They have three different payment options:
Paying the whole amount up front ($2500 deposit and $17,450 due by the first day of the program)
Monthly payments ($2500 deposit + $2750 down payment by the 1st day of the cohort, 3 monthly payments of $4900),
An option to get a personal loan through the Ascent Funding service.
The second and third places are occupied by DevMountain and Tech Elevator bootcamps. DevMountain has an 87% success rate when it comes to in-field employment of its alumni students. We have covered their programs and prices earlier in the text. For Tech Elevator that success rate is 85%. This Bootcamp offers in-person and online programs that can be both full-time and part-time. Their programs cost almost $16,000 and there are different methods of payment.
They have partnerships with SallieMae and Ascent Funding services, through which a prospective candidate can obtain a loan. There is also an option to sign an ISA agreement. That way the student doesn't have to pay anything until they find employment. When they do, 8-10% of their monthly salary is paid to Tech Elevator to cover the cost of the Bootcamp. Other than that, there are special offers and benefits for Veterans enrolling in their program.
When it comes to employment in the strongest companies in the industry, Code Fellows Bootcamp has by far the greatest success rate – 11,15% of its graduates have found employment in the top five tech companies.
| School | In-Field Employment Rate | Pursuing Further Education | Total In-Field or Further Education |
| --- | --- | --- | --- |
| Codesmith | 92% | 0% | 92% |
| Devmountain | 87% | 4% | 91% |
| Tech Elevator | 85% | 2% | 87% |
| Hack Reactor | 80% | 1% | 81% |
| Fullstack Academy | 79% | 2% | 81% |
| Galvanize | 75% | 6% | 81% |
| DigitalCrafts | 73% | 0% | 73% |
| App Academy | 68% | 1% | 69% |
| Flatiron School | 67% | 4% | 71% |
| General Assembly | 64% | 6% | 70% |
| The Tech Academy | 62% | 2% | 64% |
| Code Fellows | 62% | 7% | 69% |
| Tech Talent South | 62% | 0% | 62% |
| Actualize | 58% | 6% | 64% |
| Lambda School | 57% | 1% | 58% |
| BrainStation | 56% | 8% | 64% |
| Coding Dojo | 56% | 5% | 61% |
| Epicodus | 56% | 0% | 56% |
| devCodeDamp | 56% | 2% | 58% |
| Thinkful | 55% | 4% | 59% |
| Springboard | 55% | 8% | 63% |
| Average | 66.9% | 3.29% | 70.19% |
Table 5. Coding Bootcamp In-Field Employment Rate
But, when it comes to their general in-field employment success rate, the numbers go down quite a bit, to 62%, according to Switch Up data obtained from Burning Glass Technologies. When it comes to the biggest companies, most of their graduates ended up working for Amazon and Microsoft.
| School | In-Field Employment Rate | Pursuing Further Education | Total In-Field or Further Education |
| --- | --- | --- | --- |
| App Academy | 68% | 1% | 69% |
| University of California, Berkeley | 67% | 9% | 76% |
| Flatiron School | 67% | 4% | 71% |
| New York University | 64% | 9% | 73% |
| General Assembly | 64% | 5% | 70% |
| University of Chicago | 62% | 6% | 69% |
| The Tech Academy | 62% | 2% | 64% |
| Code Fellows | 62% | 7% | 69% |
| Tech Talent South | 62% | 0% | 62% |
Table 6. Coding Bootcamp In-Field Employment Rate According to Switch Up data
Code Fellows offer detailed Software development and Cybersecurity programs. This Bootcamp offers online courses, which can be full-time, part-time, and self-paced. The prices vary depending on the program(s) the candidate chooses, from $1000 for their most basic, beginner-friendly programs (Intro to Computer Operations, Intro to Software Development, Intro to Computer Operations), which last mostly for a week or two.
Their most expensive programs cost $12,000 and are the most advanced ones (Advanced Software Development in Python, Advanced Software Development in ASP.NET Core, Advanced Software Development in Java with SpringMVC & Android, Cybersecurity Engineering). They last either 10 or 20 weeks, depending on the schedule.
Conclusion
Coding bootcamps have profiled themselves as a competitive and worthy education alternative. Being more labor market-oriented and flexible, following labor trends and fluctuations, these programs can be used to fill gaps and empty roles in the tech industry much more quickly and accordingly.
On the other hand, Computer Science degree programs are still much more detailed, theoretically oriented, and are essential for the subsistence and progress of the tech industry and science.
Depending on the personal preferences, financial situation, employment, and advancement goals of each person, both options can be good. It's important to know that bootcamps are still not accredited the way college and university programs are. They did advance through the years and provide much better quality programs than before.
No one should expect miracles and the right-away employment, but coding bootcamps surely are a good thing to pursue people who are interested in the tech industry and jobs but are not picky about their options.
Though, in the end, everything depends on the individual, their motivation, love for technology, and their talent, potential, and effort put into their education.