How To Become a Product Designer in 2022? In a world where the visual impact has taken over the mastery of eye-pleasing customers, it is understood that the design profession holds a significant place while one's exploring their career. While design has varied aspects, no one can compete with a career in product design.
If you want to build a career as a product designer, you must understand the role in detail and the courses you should be opting for. Let's deep dive into the career and help you prepare for it in the best way possible.
Things You Need To Know To Become A Product Designer
Before you step onto the technicalities of Product Designer, here are some questions that you need to answer for yourself to understand this job role in a better way:
Understand the key responsibilities that a Product Designer holds.
Get to know the process of Product Design well-in-advance.
Keep a balance between what a team and customers want.
Who's A Product Designer?
Product Designer helps curate products amalgamating the ideas, customer needs, and business requirements. The main focus of product designers is to create a memorable and comfortable user experience. To do that, they are more inclined toward the problems that customers have, what they might be expecting, and how a design solution can help solve them.
The role of a product designer comes after UX. They work in a team that includes developers, market leaders, experienced product managers, and designers.
The Product Designer's role doesn't stop at the ideation bit but includes implementation that can help users ahead. Here are some of the significant responsibilities that a designer might take into their account-
Cross-function work- As a product designer, it's required to work not solely but with other team members. It will help better understand what they might expect as the outcome and how they do things differently. Some of the essential team members are- Marketing head, Product designers, UI/UX designers, and the Community team.
Understand the problems- Instead of jumping in the deep pool, it's essential to understand the outline of the problem first and what needs to be solved.
A & B testing- As a product designer, you can't trust one solution and consider it a final one. It's essential to go ahead with more than one outcome and understand the pros and cons of the same.
Complete your market research- Understand what the target market desires, who your competitors are, and their USPs.
Interact with your customers- In the end, they are everything. Hence, no product should be created out of the blue and shared in the market. A customer should feel connected while buying or using the product. Therefore, product designers should be clear about what a customer is looking for.
Uncomplicating the complicated process- A product designer's role is to create an interface accessible to customers and looks premium at the same time.
Well aware-of the testing process- Creating an interface is one thing, but it's also essential to get clarity on how it works. Therefore, a Product Designer should deeply understand the testing process.
Product Designer Skills
Here are some of the skills that you need to master if you want to become a Product Designer.
Customer Journey Map
Before creating an interface, it's crucial to have a crisp and clear understanding of all the steps a customer will take before reaching the end goal. For that, a Product Designer should create a customer journey map and signify how and what a customer will be exploring and experiencing.
Tools Required- Sketch, Adobe, and Figma
Flow Of User
Observability is the key for a designer. Handing the product to a user isn't sufficient. Understanding the ways a user opts for before reaching the ultimate goal is essential.
Tools- Sketch, Miro, and Figma
Sketch Of The Interface
To bring an idea into implementation, a product designer sketches out how they perceive the interface to look. With the help of sketching, they can visualize the concept better and help teams get a better understanding.
Tools- Pen, Doodle pen, Ipad, Drawing book
Wireframe
Wireframe represents the visual representation of how every page will look. It also includes directions and steps that the customer will be following.
Tools- Sketch, Figma
Real-Life Example
It includes examples of how an interface will look when a customer uses it. It gives better clarity on the design perspective regarding what can be improved, what can be done, and what should be discarded.
Tools- Figma, Adobe, Invision
User Testing
Once the internal testing is done, the interface is shared with a handful of customers to test it and share their genuine feedback.
How To Crack Product Design Interview
Now that you understand what a product designer does and the process s/he follows. It's time to look out for some of the quick hacks that can help you get the interview cleared with flying colors.
Research
Before sitting for the interview, have a clear idea about the company you will be working for and some innovative ideas that can help them grow in the future.
Build your portfolio
If you're a fresher, ensure that you opt for specific short-term courses or internships that can help you build a portfolio. In this field, a portfolio plays a better role than a resume. If you have experience, ensure to share a detailed analysis of every project.
It's an art
Every interviewer wants to know your perspective while designing a product/interface. Hence, you should clearly understand how you perceive something before starting to work on it.
Numbers matter too
While your portfolio will hold the upper hand, an interviewer needs to understand how well it has performed for the company/client. Hence, don't forget to incline towards numbers as well.
Conclusion
In conclusion, product designers have a huge demand at a time when everyone is shifting towards visual experiences. But to crack the code, you must clearly understand the process and the vision you hold. Apart from that, keep practicing with different projects and clients. It will help sharpen your career in a better way.
If you are looking for a coding bootcamp check the best bootcamps.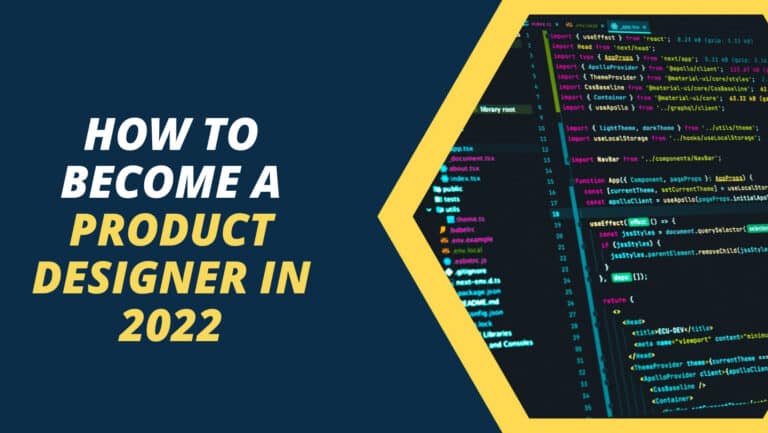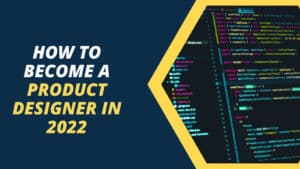 Also read: What Is A Docker Used For: Beginners Full guide (2022)