Do you want to start a career in data science? I am pretty sure many of you are searching for myriad ways to dive headlong into data science. And why not? After all, it's a profitable field, with innumerable job opportunities and plenty of room to grow and succeed. But amid so many courses, training, and boot camps available in the market, it might become overwhelming to decide which one suits your profile the best.
Interestingly, online platforms are the best way to kickstart your journey. Datacamp and Dataquest are two of the leading online learning platforms for acquiring data skills that offer numerous courses. These are self-paced classes, focusing on multiple career tracks including Python and R prWithects. In so many similarities, 98% of the time, students come to us asking which one's the best: Datacamp or Dataquest?
So, this blog will answer everything about Datacamp and Dataquest. We will break down each of them in detail and help you infer which one suits you the best. Let's dive in.
Meet Datacamp and Dataquest
Datacamp is a self-learning program where you will find innumerable videos to train yourself with data engineering concepts. These instructional videos are accompanied by several exercises and emphasize R courses mostly in detail. 
On the other hand, Dataquest is a self-paced 24-week program that primarily involves working on projects. The course will help you streamline your career in four specific paths for data analysts, data engineers, and scientists. The best part of Dataquest is the instant hands-on with real-world scenarios and career support.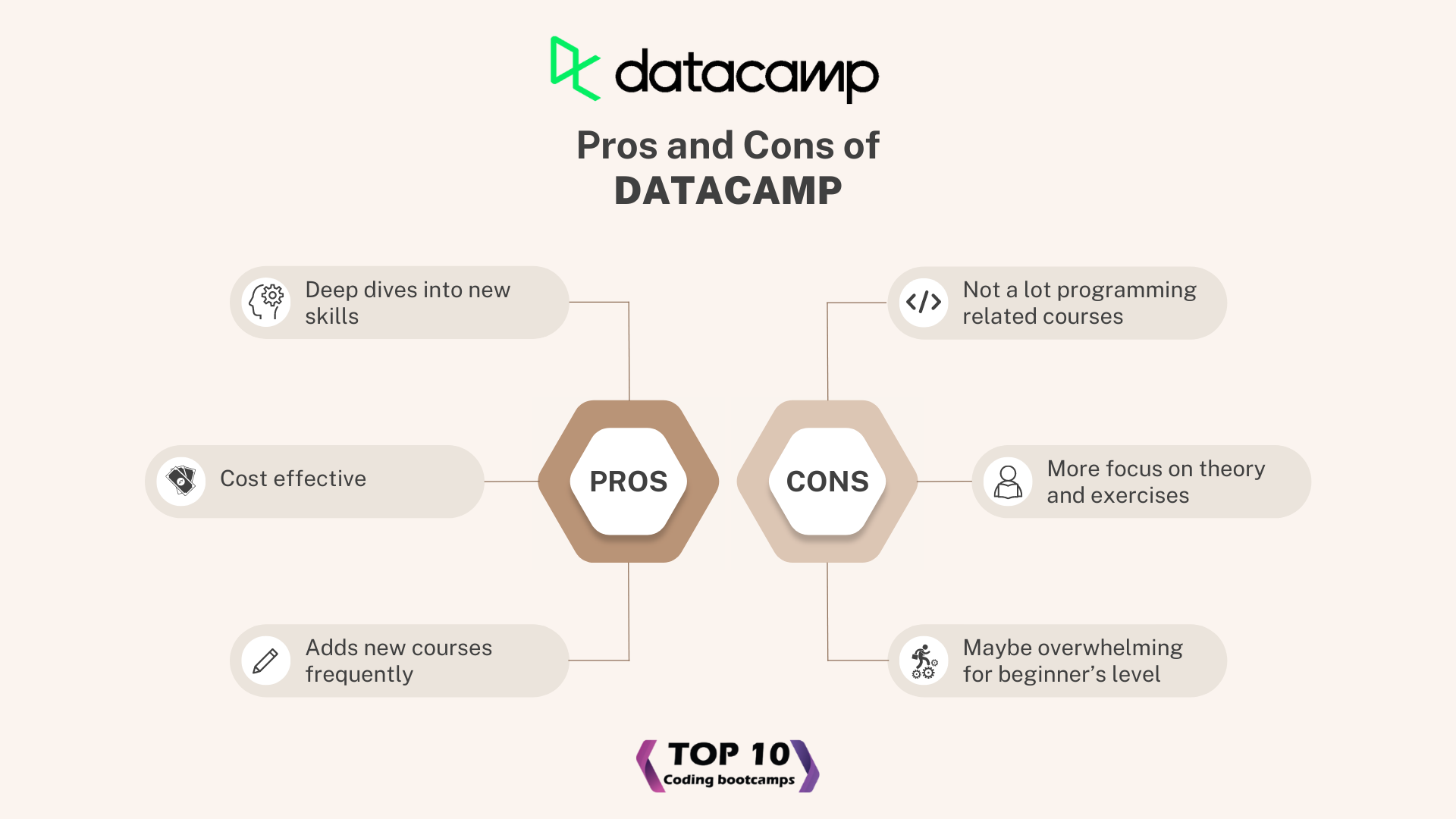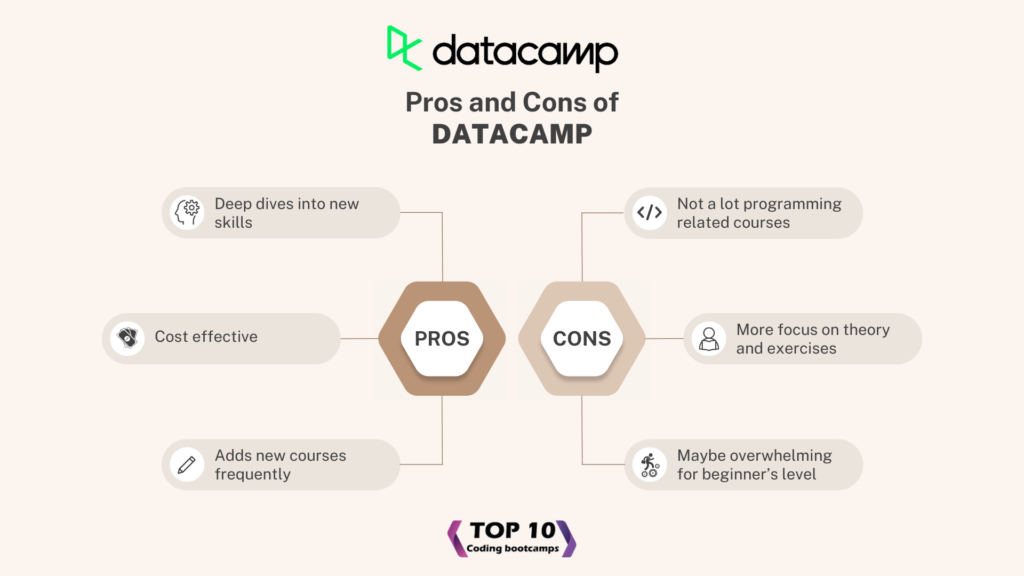 Datacamp Pros and Cons
Now, coming to similarities, Datacamp and Dataquest got many common features, like:
Both are self-paced, allowing you to study at your own time and set your own pace.

Both boot camps have a monthly subscription and offer a free trial so you can "try before you buy."

Interestingly, both Datacamp and Dataquest offer career support and portfolio analysis.

They use a coding platform that runs in your browser, so no hassles of downloading. 

You will learn R, Python, and SQL in both courses. 
However, this is where the similarities end. The main differences between Datacamp and Dataquest are their teaching styles and career focus.
Learning style:
The learning style is one of the primary differences between Datacamp and Dataquest. Datacamp offers mainly video lessons, while Dataquest uses a project-based approach from the beginning. Also, for Datacamps, you would need to complete a hands-on 'fill in the blanks' coding challenge once you complete the videos. This further helps you assess your understanding.
Career focus:
Datacamp provides over 387 courses and 51 for data scientists, analysts, and engineers to skill up and is used by 80% of Fortune 1000 companies. On the other hand, Dataquest includes 70+ courses and five career paths. Its primary goal is to help you start your career in the field by teaching you the skills you'll need to land your first job.
Bottom line:
If you want to switch your career, Datacamp would be a better choice since it offers various guided skill tracks, grouping 4-6 courses for 13-14 hours. But if you're looking to start from the beginning, learn about data and machine learning and find your first job, then Dataquest should be your choice.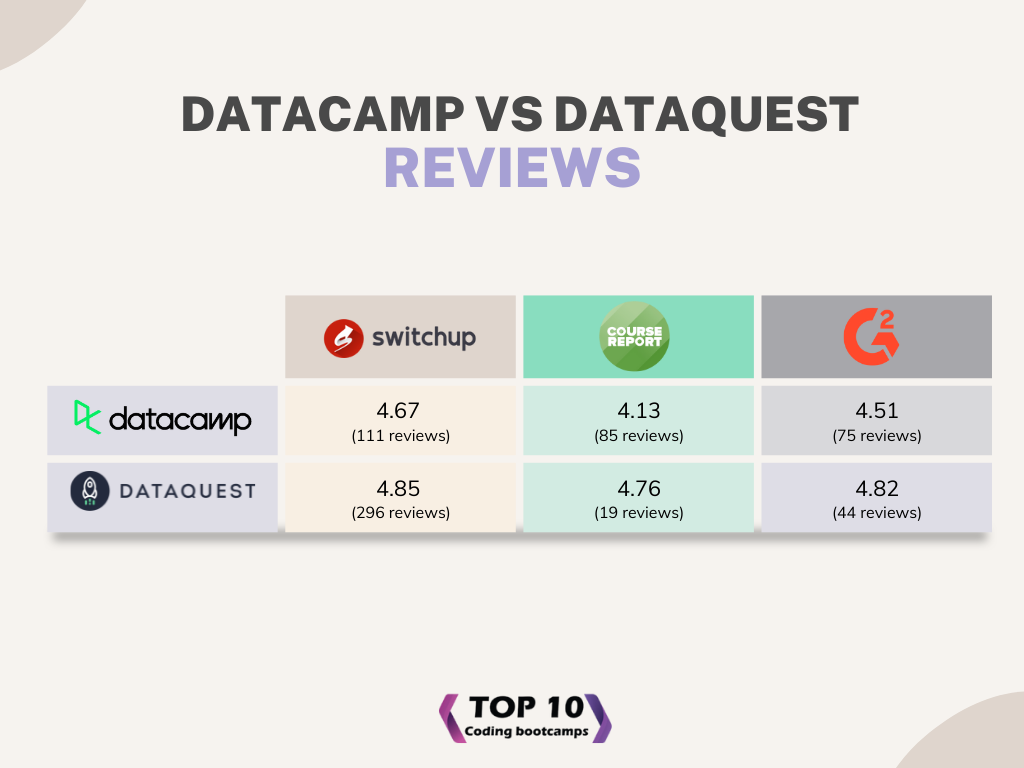 Dataquest and Datacamp Reviews
Cost comparison: Datacamp vs Dataquest
Both Datacamp and Dataquest offer monthly subscriptions and free trials for you to try out their online courses free of charge. While Datacamp offers separate and detailed packages for personal and business, Dataquest, on the contrary, gives combined plans for everyone. Let's break it down to make Datacamp vs. Dataquest cost comparison a breeze for you. 
Datacamp pricing gives you: 
| Free access to every first chapter | Access to the full course library |
| --- | --- |
| Access to free courses | Personalized learning path |
| All cheat sheets and tutorials | Unlimited learning on mobile |
| Create professional profile | Access to career service team |
| Share your portfolio analysis | Step by step coding projects |
| Apply to job listed on Datacamps | Priority support |
| Live code along and competitions | Access to global slack community |
| One skill assessment | |
| Teams: $25/month | Enterprise: contact our team for price info |
| --- | --- |
| For teams of 2 and up | Everything in TEAM, plus |
| Manage everything in PREMIUM plus | Personalized and adaptive learning path for employees |
| License management tools | Advanced analytics and reporting integrations |
| Team performance reports | Skill matrix |
| Admin dashboard | Connect data sources |
| Bite-size practice exercise | Dedicated Customer Manager for teams of 20+ |
| | Learning Solutions Architect |
| | LMS/LXP integrations |
| | Custom learning tracks |
| | Single sign-on (SSO) |
Second, coming to Dataquest pricing, you will have:
| Free Trial | Premium: $49/month | For Teams |
| --- | --- | --- |
| Introductory courses | Access to 70+ data courses | Access to 70+ data courses |
| Community support | Practice problems and guided projects | Community support |
| Limited practice problems and guided projects | Unlimited assessments | Practice problems and guided projects |
| | Access to certificates | Assessments and certificates |
| | Community support | Team dashboard and reports |
| | | License management and rotation |
| | | Volume discount |
Bottom Line
Datacamp shows affordable pricing compared to Dataquest. But long story short, whether to go for Datacamp or Dataquest depends more on your overall goal than the pricing. While Datacamp looks relatively cheaper, Dataquest on the other hand offers exclusive support irrespective of the free trial or paid subscription. That could be a significant milestone in landing your first data science job. 
Self-Paced Programs with a Different Approach to Learning
Unlike other boot camps, which have pre-defined schedules and curriculum plans, Dataquest and Datacamp allow you to learn anywhere, at any time, and your own pace. Both bootcamps have their career track or career path, skills track, and countless courses. Here's a quick overview:
| Particulars | Datacamp | Dataquest |
| --- | --- | --- |
| Courses | 387 | 70+ |
| Skills paths | 51 | 14 |
| Career | 12 career tracks | 5 career paths |
| Learning type | Video based | Project based |
Now,  talking about Dataquest vs Datacamp career paths, it looks something like this:
| Datacamp career tracks | Dataquest career path (10 hours/week) |
| --- | --- |
| Data analyst (R): 32 hours and 8 courses | Data scientist with python: 35 courses and 9 months |
| Data scientist: 88 hours and 22 courses | Data scientist with R: 19 courses and 5 months |
| Data analyst (Python): 32 hours and 8 courses | Data analyst with Python: 24 courses and 6 months |
| Data scientist: 97 hours and 25 courses | Data engineer: 19 courses and 5 months |
| Python programmer: 59 hours and 15 courses | Business analyst: 15 courses and 5 months |
| R programmer: 57 hours and 14 courses | |
Bottom Line
The essential factor here is whether you prefer to learn by watching a video tutorial and completing exercises with guided projects (Datacamp) or prefer solely working on a project basis (Dataquest). Also, note that the Dataquest tracks are typically longer as they keep adding more valuable content to their trajectory. Another thing in which Datacamp earns extra points here is having Tableau and Spreadsheets in the trajectory, which is not present in Dataquest.
Datacamp vs Dataquest: Course Curriculum
By now, you have got a good idea of how Dataquest and Datacamp's overall structure differs. While you can navigate properly in Datacamp: switching from videos and exercises to projects, Dataquest, on the other hand directly involves project completions. These projects are based on actual data engineering scenarios and challenges.
Now, speaking of Dataquest vs. Datacamp courses, these courses mostly focus on:
| Datacamp skill path | Dataquest skill path |
| --- | --- |
| R Programming Language | SQL Fundamentals |
| Importing & Cleaning Data | Python Basics for Data Analysis |
| Data Visualization | R Basics for Data Analysis |
| Data Manipulation | Data Analysis and Visualization with Python |
| Statistics Fundamentals | Data Visualization with R |
| Importing & Cleaning Data | APIs and Web Scraping with Python |
| Python Fundamentals | APIs and Web Scraping with R |
Second, here's a sneak peek at a few of the domains of the boot camps:
| Datacamp: Over 380 courses | Dataquest: Over 70+ courses |
| --- | --- |
| SQL | R Programming Languauge |
| R Programming Languauge | Git |
| Python | SQL |
| Shell | Kaggle |
| Spreadsheets | Machine Learning |
| Git | Power BI |
| Excel | Command Line |
| Scala | Excel |
| Power BI | |
| Tableau | |
| Theory | |
Bottom Line
Datacamp involves over 308 hours of workshop courses in the form of short videos and fill-in-the-blank exercises before finally moving on to guided projects. You also get instant feedback on your lessons and problems, which lets you apply your knowledge with quick, hands-on examples. 
Contrarily, Dataquest is entirely project-based and teaches various documentation and concepts. The courses are tailor-made to adjust to all sorts of career outcomes and aim to put theory into action as fast as possible.
So, judging the Datacamp vs. Dataquest game by a curriculum depends on how much time and to focus you can afford to complete the courses. If you are looking for a quick program to upgrade your resume, Datacamp is a perfect fit. If you want to know how to apply data science skills in the real world, Dataquest is the right option.
Dataquest vs Datacamp: Types of certificates
Datacamp provides two types of certifications to help you apply your data science skills as Data scientists and analysts. These certifications: 
Are in collaboration with experienced professionals

Authenticate your skills as a data professional

Provide personalized job hunting support and make you invincible.
Here's a quick overview of both the certifications: 
| Datacamp | Dataquest |
| --- | --- |
| Basics of Python | Fundamentals for Python in Data Science |
| Data Manipulation using pandas | Intermediate course for Python in Data Fundamentals of Pandas and NumPy |
| How to import & clean Data | Basics of Statistics |
| What is web scraping in Python | Advanced Statistics: Averages and Variability |
| How to do data analysis in Excel | Basics of Probability |
On the contrary, Dataquest does not have a dedicated certification program like Datacamp. Though it has five career paths and offers certificates once you complete those paths or courses, which validates your skills in that particular domain. Here are some of the most preferred certificate courses of Dataquest:
| Datacamp: Data Scientist Certification | Datacamp: Data Analyst Certification |
| --- | --- |
| Data management | Data Management |
| Exploratory Analysis | Exploratory Analysis |
| Model Development | Analytic Fundamentals |
| Statistical Experimentation | Visualization and Reporting |
| Coding for Production | Communication |
| Communication | |
Bottom Line
The major differences between Datacamp and Dataquest certifications lie in the skills tested for, their duration, and the in-depth courses. As mentioned earlier, Dataquest certification courses take longer than Datacamp certificates but include more projects. Again, if you are striving to be a data analyst, Datacamp, unfortunately, doesn't provide a direct certification course, giving one extra point to Dataquest. 
Dataquest vs Datacamp: Community and Support
Over the years, Datacamp has improved its customer support and community by manifolds. You get access to their online community page which allows you to share your opinions, doubts, and achievements. The community and support features for Datacamp look like this:
Global slack community
Allows you to share your portfolio analysis
Provides personal branding, workshops, and career networking sessions
Speaking of Dataquest, it offers both slack community and website community support where you can post, share, and learn from the community members present. Apart from the community services, premium members on Dataquest get the privilege of improving their professional credentials through career experts and becoming job-ready.
Bottom Line
Both Dataquest and Datacamp offer the almost similar community and customer support features. The personalized community support on the official website makes Dataquest better. Another thing that helps Datacamp outweigh Dataquest's support is the career-related services. While with Datacamp, where free-trial members can have limited access to career support, Dataquest, on the other hand, gives career support privileges only to premium members.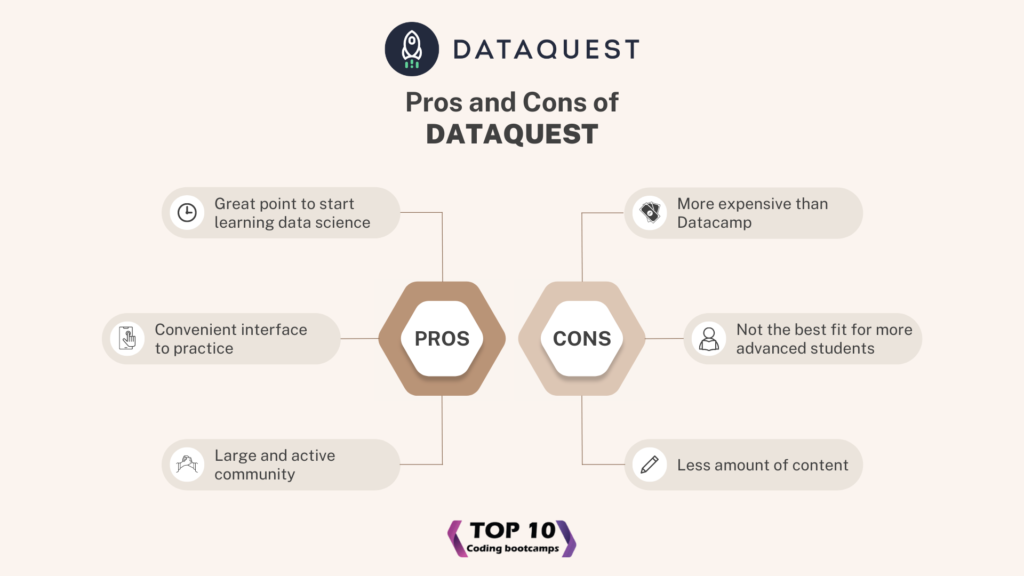 Dataquest Pros and Cons
Dataquest vs Datacamp: What are the skills you will learn?
Datacamp is the best way to start your data science career journey. Especially if you are someone wishing to deep dive into data analytics and learn to program against the backdrop of data science. Once you complete Datacamp courses, you will be able to: 
Use the command line effectively.

Manage Python packages and environments.

Leverage Git and GitHub outside of your IDE.

Set up and sort out your local Python IDE.

Implement code in various production environments.
Contrastingly, Dataquest will make you an expert in telling stories through data visualization and automating complex data workflows. The projects in Dataquest teach you how to wrap up, clean, reshape, and unify large amounts of datasets. Apart from this, you learn: 
How to program with Python and build a complex data architecture.

How to manage data pipelines and processes to bridge gaps in data architecture.

How to use data wrangling

How to leverage Microsoft Power BI to frame insightful stories

How to use SQL to retrieve or manipulate data
Bottom Line
The learning outcomes pretty much make the differences crystal clear. The skills Dataquest validates are all fundamentals and basic concepts of data science. In other words, these are the stepping stones, ignoring which will make it hard to get to the core of data science.
Conversely, Datacamp skill paths highlight more detailed and intermediate-level outcomes. Having basic data science knowledge makes the Datacamp course more graspable. Therefore, the decision in this context depends on which level of expertise you are banking on. 
Datacamp vs Dataquest Outcomes
Given the intensity of projects and practical exposure, Dataquest seems to attract more traction from students. It provides plenty of facts and figures to highlight the success of their students, pretty much the reason why most people tend to choose Dataquest despite higher subscriptions. Additionally, Dataquest's community and networking features make it easier to get a foothold in the data science field. Here are some quick facts about Dataquest that will make you ponder:  
4.9 Dataquest rating on G2Crowd and Switch Up

88% of students said Dataquest was their main source of learning

80% of learners said they were able to learn Python and R from scratch.

97% of students recommend Dataquest for career advancement

63% of students say they use Dataquest skills in their job hunt.

77.8% of Dataquest students spend less than 10 hours/per week studying.

Students increased their median salary by $30k
On the contrary, Datacamp emphasizes increasing your knowledge and gaining data skills through instructor-led videos. They have helped over 7 million learners through in-depth training videos and materials. Here are some quick facts about Datacamp: 
2500+ companies and 80% of Fortune 1000 companies use Datacamp to upskill their teams. 

The companies include Google, eBay, Paypal, Uber, Deloitte, etc. 

Datacamp, to date, has served over 350,000 students.

Over 3700 classrooms use Datacamp courses.
Bottom line
Analyzing the Dataquest vs Datacamp outcomes, it is safe to say that Dataquest is more promising if you want to learn data science. The figures are self-explanatory and show that students enjoy engaging with Dataquest courses. In fact, they are the best way to land your first job. 
Although, if you already have some experience or knowledge in the field and strive to broaden your horizons in the data analysis or data scientist field with new skills, Datacamp is the right place for you since it offers more data science courses than Dataquest. Here the major difference lies in the testimonies of the audiences. Clearly, students love Dataquest more because of the simplistic nature of the course path. But, more than a thousand companies are associated with Datacamp because of the in-depth nature of its courses. 
Dataquest vs Datacamp: Pros and Cons
Amid innumerable similarities, it's the benefits that make one unique from the other. You have to break it down into details to reach the final decision of Dataquest vs Datacamp. For starters, here's a list of pros and cons for Datacamp:
| Datacamp Pros | Datacamp Cons |
| --- | --- |
| Deep dives into new skills | There is not much on programming related data science courses available |
| Cost effective | More focus on theory and exercises than practical exposure |
| Adds new courses frequently: helping you to stay upgraded always | Maybe overwhelming for beginner's level |
| Great way to advance towards an expert level | |
Similarly, for Dataquest we have:
Dataquest Pros
Dataquest Cons
Enhanced practical exposure with projects based on real data analysis challenges
Great point to start learning data science or data analytics

Lesser content than Datacamp

Large and active community

Expensive than Datacamp

Convenient interface to practice

May not be the best fit for intermediate or advanced level

Highly recommended by students

However, if you are about to step into the data world, Dataquest is more advantageous. Dataquest offers networking opportunities with its large and active community and lets you share your opinions and achievements. Moreover, it also teaches you data from scratch, so you don't need to have any prior knowledge.
Datacamp vs Dataquest: Final Word
Datacamp vs Dataquest: Which one's better? The answer really depends on what you want to prioritize. Are you a data scientist, data analyst, or data engineer looking for affordable certifications to upgrade or validate your skills in data science? 
Or, are you a student just considering a profession as a data scientist and want to dive deeper into avenues by working on interesting hands-on projects? That will determine whether you should go for Dataquest or Datacamp. 
Again, what would you prefer to focus on: interactive and engaging learning or getting instant hands-on with real-world scenarios? In which case, for learning purposes solely, Dataquest is always the answer, and Datacamp if you want to take your expertise one level up.
Which one shall I go for?
If you are considering landing a perfect or dream job, let me give you a spoiler here: neither Datacamp nor Dataquest will do that. These courses will only shape your credentials and make a mark in the industry. So, the question here is: at your stage or phase, how will you get that foothold? 
Having said that, if you are at the beginner's stage and yet to explore avenues in data science, nothing like having prior experience through hands-on projects before starting your job hunt. You win half the game by showing relevant practical exposure to data analytics and data visualization. So, for freshers and students, there's no better move than Dataquest. In fact, the student community at large vouch for Dataquest's benefits. 
Likewise, are you working at a well-reputed company with data science responsibilities and wondering how else you can expand? Or wish to gamify your work experience? Datacamp is your solution. With so many in-depth courses, skill paths, and career tracks, you will always find something on the learning platform to upgrade yourself. Moreover, the career tracks are super easy to navigate and get regular portfolio analysis from the Datacamp team. 
Further, as both boot camps offer free trials, you can definitely go for a test and analyze which one suits you. Explore both online platforms, assess whether or not they align with your long-term career goals, and then make the final decision. Once you explore, don't forget to share who won the Dataquest vs. Datacamp duel in the comments.
FAQs
While we reach our conclusion, here are some FAQs for both Datacamps and Dataquest to make your decision process a breeze.
Which one is more affordable: Dataquest or Datacamp? 
Datacamp is definitely more affordable than Dataquest. You get over 300 courses, half a century of skill tracks, and many career paths. You get them all at a minimum cost of $12.42/month. Even the free trial, despite limited access, gives you a basket full of resources and features to get started with data science. 
I am a student and want to venture into data science. Which one shall I go for? 
For students, I would say Dataquest would be a better choice. Unlike Datacamp, Dataquest has simplistic and fundamentals-based courses which teach concepts from scratch. Moreover, the project-oriented approach gives you hands-on exposure to face real-world challenges. 
I am professional, and my company wants me to upskill further as a data analyst. Which one is better for me? 
Datacamp is your solution here. It is preferred by many prestigious Fortune 1000 companies. Also, they trust Datacamp's courses and skill training programs. Video and exercise-oriented approaches will pave the way for easy learning, and the platform helps you highlight your portfolios and achievements. 
Which one has better career support?
At which level are you asking this question? Are you a student who wants career guidance and seeks to collaborate on projects? Then, Dataquest should be the solution since it offers a vast community space on its platform. The support team, along with community members will help you streamline your career path for you to find a suitable job. 
Again, if you are at an advanced level and want to highlight and validate the special skills you have earned through certification, then Datacamp might be the platform for you. The global slack community, along with the support team, helps enhance your portfolios and share them among relevant prospects.